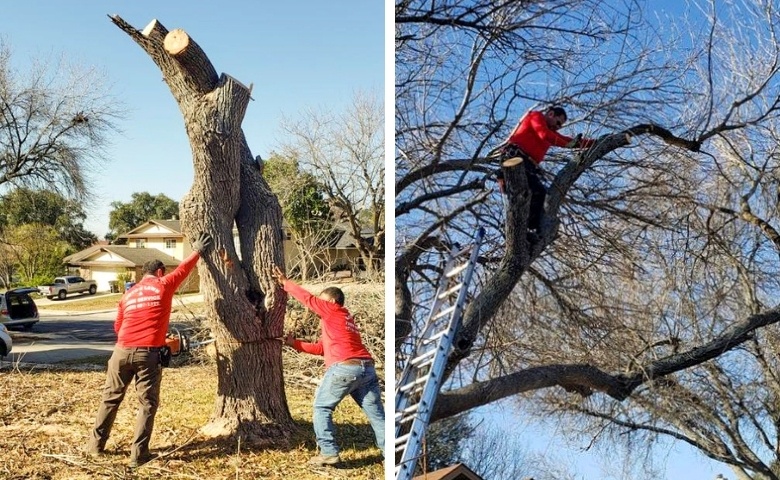 Tree Services
Tree trimming, tree cutting, tree removal, and stump grinding in San Antonio.
While we love performing all the services we provide, nothing makes us more excited than providing our tree services. We love to climb almost as much as we love to provide 5-star quality services!
Tree Service San Antonio
Soto's Lawn & Tree Service is a licensed and insured tree company serving San Antonio, TX.  
Our estimates are free to request, and we do not consider the job complete until our customer is 100% satisfied.
Tree Removal Service
Tree removal is the most common tree service we offer.
Our tree removal service includes tree cutting as needed to safely removal the tree piece by piece.  
Stump removal is also available if desired, and we clean up all tree debris we create during the process. 
Tree Trimming & Pruning
Sometimes a tree needs a professional tree trimming service to grow correctly and thrive again.
If you are interested in saving a tree instead of removing a tree, please ask us if a branch pruning service would bring it back to health.
Our Tree Services Include
Tree Trimming
Tree Removal
Removal of Downed Branches and Trees
Stump Grinding
We're not afraid of heights! No matter the tree, we know how to safety trim even the tallest of branches.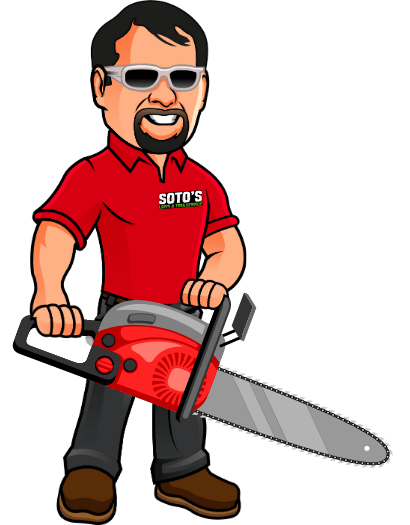 Healthy Trees Turn Heads
Trees are the perfect compliment to any landscape, but even they need a helping hand sometimes. 
When it comes to trees, we have over a decade of experience in safely trimming and removing trees without damage. If your trees have become damaged, diseased, or have outgrown their space and are now a safety risk, we know how to solve the problem quickly.
We can also grind down any stumps that have become an obstacle or are ruining the look of your landscape. 
Trimming Trees in San Antonio & Nearby
San Antonio has many beautiful native trees. We know how to safely and properly trim all of the native trees.
The Best Time To Trim Your Trees
When your trees need to be trimmed, they need to be trimmed! We're one call away and available for tree services at any time.
Will you still grind a stump even if another company fell the tree?
If there's a stump on your property, we'll take care of it regardless of how it got there.
How much do your tree services cost?
We are happy to provide you with a free, no obligation estimate for any of our tree services.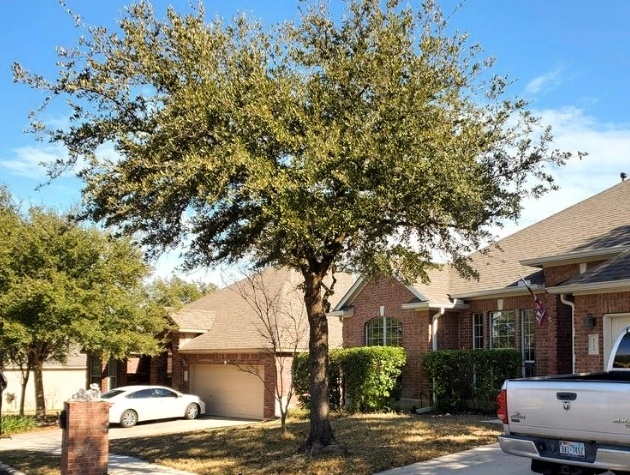 Measure Twice, Cut Once
Tree trimming can be a nerve-racking experience for many homeowners, especially when you need someone to trim away overhanging branches that might fall and damage your home or property if they're mishandled.
We take protecting your home and property very seriously. During tree trimming services, our crew is in constant communication with each other about which branches to trim and where they should fall. No cuts are ever made until we're sure it's safe to do so.
Soto's Lawn and Tree Service will never damage your trees or your property!  In fact, we'd like to care for more than just your trees!  We are a full service lawn, landscape, and tree company serving Northwest San Antonio.  Learn more about our landscaping and lawn care services.
Tree Services Quote Request Form